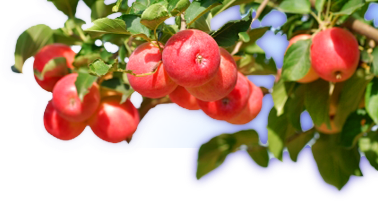 11 Phillipston Road at Brooks Village
Templeton, MA 01468, 978-939-5324
The orchard with the personal touch. Quality since 1912.
APPLES
Three generations of fresh apples, and fresh greetings.
Pease Orchard is located in Brooks Village, a quiet 5-way crossroads in Templeton, Massachusetts, an old New England village in the northwest corner of Worcester County. It's an area where you find a rare blend of altitude, soils, and climate that's perfect for growing crisp, juicy apples.
That's why, in 1912, brothers Clarence and Lester Pease bought what was then called Fairbanks Farm and began "setting out" fruit trees. They were the first commercial orchard in the area, and became known for the quality of their apples, which were sold throughout New England.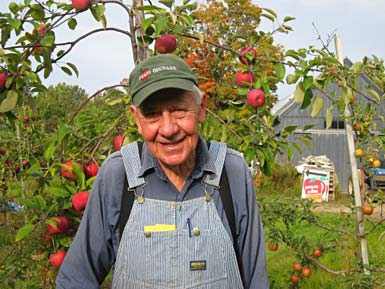 Second generation Bob Pease with ripe Ida Reds.
Three generations later, the Pease Family is still producing the best apples and sweet cider in the Northeast. And they're available in the Apple Shed, our cozy farm stand where you'll find lots of other treats like fresh-baked pies, pure maple syrup, local honey, warm turnovers, and dry Yankee humor.
It's a great place to end up on a Saturday or Sunday afternoon in the Fall, when the trees of this North Quabbin hill country are blazing with color. You'll be glad you came; and you'll come back again. Guaranteed.