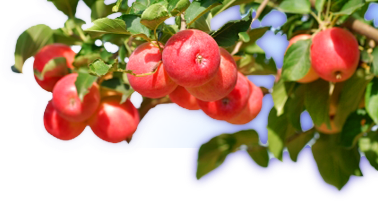 11 Phillipston Road at Brooks Village
Templeton, MA 01468, 978-939-5324
The orchard with the personal touch. Quality since 1912.
APPLES
27 varieties of apples. And the perfect place to grow them.
The beautiful North Quabbin hill country of Massachusetts contains a rare blend of conditions ideal for apple growing that include high altitude (1,050 feet); moist, glacial soils; and a cool Zone #5 climate.
The Pease Brothers located their orchard here for that very reason — and you can taste the results at the Apple Shed, our family farm stand.
We grow everything from heirloom Newtown Pippins (George Washington's favorite) to delightful new varieties like Honey Crisps and Zestars! Our apples make great pies, great dumplings, great apple crisp, great cider, and great eating.
Come in, sample for yourself, and find your own favorite. Email us or call us (978-939-5324) to see what's ripe. Or sign up for email updates about what's in season.
Apple Varieties We Grow
Aomori Red Delicious
Cortland
Empire
Fireside
Golden Delicious
Grimes Golden
Ginger Gold
Gala
Honey Crisp
IdaRed
JonaGold
Jersey Mac
Jonathan
Liberty
Macoun
McIntosh
Mutsu (Crispin)
Newtown Pippin
Norther Spy
PaulaRed
Red Delicious
Roxbury Russet
Spartan
SpyGold
Spencer
Tydman's Early
Zestar!