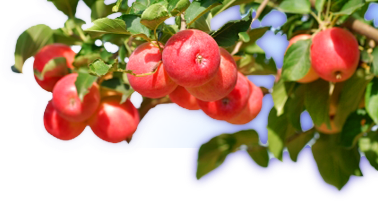 11 Phillipston Road at Brooks Village
Templeton, MA 01468, 978-939-5324
The orchard with the personal touch. Quality since 1912.
FARM STAND
The Apple Shed. A farm stand where you feel right at home.
On Fall weekends we sell our own newly-picked apples and fresh cider – and all kinds of other treats as well. Come in and chat. Sip a free cup of hot, mulled cider. Bite into a crisp, fresh apple. Smell the freshly-baked turnovers. Or just breathe some fresh air.
We're out in the hill country or north central Massachusetts, but we're real easy to find – not far off scenic State Route #2, 60 miles west of Boston, 30 miles east of Greenfield. It's a beautiful drive no matter which way you're coming from. And we'll keep the cider hot for you.
All Kinds of Good Things
Peaches
Fresh Sweet Apple Cider
Fresh Baked Pies
Apple Dumplings
Apple Turnovers
Coffee Cake Bread
Local Honey
Local Maple Syrup
Maple Sugar Candies
Jams & Preserves
Cider Mulling Spices
Pancake Mixes
Pumpkins
Fresh Fall Vegetables
Fresh Flowers
Gift Boxes*
Knitted Items
Gift Boxes
*We can ship mixed gift boxes of apples, or anything else we sell, to wherever and whomever you want. Jams and jellies, maple syrup, and maple sugar candies make especially good gifts. Call us and we'll be happy to help you with your order.
Apple boxes come in the following sizes:
#1 - 12 apples, #2 - 16 apples, #3 - 25 apples
Sign up for email updates about what's in season.
Store Hours
The Apple Shed is open 9:00 AM to 4:00 PM every Saturday and Sunday beginning the first weekend in September until the last weekend before Thanksgiving.
Driving Directions
We're in North Quabbin region of central Massachusetts, not far from State Route #2:
60 miles west of Boston, MA
30 miles east of Greenfield, MA
50 miles northeast of Springfield, MA
40 miles southeast of Brattleboro, VT
From Massachusetts Route #2 take Exit 21. Turn onto Route #2A traveling west toward Templeton Center. Continue about 2 1/2 miles straight through Templeton Center, staying on 2A. Turn left onto Brooks Village Road just after passing the Pine Grove Cemetery. Go 3/4 of a mile on Brooks Village Road until you reach the 5-corners. Bear left onto Phillipston Road. Pease Orchard is immediately on your right. Look for the Pease Orchard signs.
If you have any trouble finding us, call David at 978-939-5324. Or contact us.